Ten airport signs, markings, and lights all pilots should know
5

min read
Taxiing at larger airports can add new complexities to your flight, especially when visiting an unfamiliar airport for the first time. Here's a review of ten airport signs and pavement markings you might encounter during ground operations at a busy airport.
Name
Runway Safety Area with Engineered Material Arresting System (EMAS)
Purpose
The Runway Safety Area is typically 500 feet wide and extends to a maximum of 1,000 feet beyond each end of the runway. It provides a graded area in the event that an aircraft overruns, undershoots, or veers off the side of the runway. EMAS uses crushable material placed at the end of a runway to stop an aircraft that overruns the runway. The tires of the aircraft sink into the lightweight material and the aircraft is decelerated as it rolls through the material. This is currently installed for 117 runway ends at 69 airports in the United States.
What do these markings indicate?
The yellow chevrons indicate the area is to be used for emergencies only, and not for taxi, takeoff or landing.
---
Name
Runway Distance Remaining
Purpose
Distance remaining signs are located along the sides of runways at 1,000 feet increments. These signs can give a pilot indications that the landing or takeoff is performing as expected or if an abort might be appropriate.
What does this sign indicate?
There are 4,000 feet of remaining runway left from the current position.
---
Name
Runway Status Lights (RWSL)
Purpose
This fully automated advanced alerting system uses embedded lights in the runway to alert pilots when it is unsafe to enter, cross or takeoff from a runway.
What do these lights indicate?
This is an example of Takeoff Hold Lights, which are red due to an aircraft currently clearing the runway up ahead.
---
Name
Runway/Taxiway Location Signs
Purpose
Taxiway location signs are black with a yellow border and numerals. They are used to identify taxiways or runways on which the aircraft is located. A yellow sign with a black arrow defines the direction and designation of intersecting taxiways. A red sign with white lettering defines the entrance to a runway or where an aircraft should hold short until receiving an ATC clearance to enter. A red sign with the runway number and APCH indicates an area where ATC may request you to hold short during certain situations.
What do these signs indicate?
You are currently located on Taxiway Juliet. Taxiway Sierra crosses perpendicular in front of you from left to right, and you are nearing the Runway 27 Approach Area holding position (you are only required to hold short of the Approach area if instructed by ATC, even though it uses the same pavement hold short markings that you'd find leading up to an active runway).
---
Name
ILS Critical Area
Purpose
This sign identifies the ILS critical area boundary. At towered fields, you must hold short of the ILS critical area only when instructed by ATC. At non-towered fields during instrument conditions, remain clear of the critical area until released by ATC.
What does this sign indicate?
You are approaching the ILS critical area.
---
Name
No Entry Sign
Purpose
The no entry sign identifies paved areas where aircraft entry is prohibited.
What does this sign indicate?
Do not enter – the paved surface is the entrance to the airport fire department.
---
Name
Ground vehicle surface marking
Purpose
White markings are for ground vehicles and are used to define a pathway for operations on or crossing areas that are also intended for aircraft.
What does this sign indicate?
The red "stop" letters on the white painted background instruct ground vehicles to stop at this location.
---
Name
Non-movement area marking
Purpose
A single sold line next to a single dashed line delineates movement from non-movement areas. The non-movement area begins on the side with the solid line and typically separates areas like FBO ramps and aprons from active taxiways and runways. You can taxi freely in the non-movement area without an ATC clearance. When ready to taxi out of a non-movement area, pull up to the solid line side of the marking and call ATC for a taxi clearance.
What does this marking indicate?
You are taxiing in from the movement area (an active taxiway) to the non-movement area (the FBO ramp)
---
Name
Runway Holding Position Sign and Marking
Purpose
These markings identify the locations on a taxiway where aircraft MUST STOP when a clearance has not been issued to proceed onto the runway. Generally, runway holding position markings also identify the boundary of the runway safety area (RSA) for aircraft exiting the runway. An aircraft exiting a runway is not clear of the runway until all parts of the aircraft have crossed the applicable holding position marking.
What does this sign and marking indicate?
You are currently on taxiway Alpha, holding short of the approach end of Runway 27.
---
Name
Runway Blue Dot
Purpose
There are several uniquely colored, round markers painted on the runways at Oshkosh (KOSH) during EAA's Airventure week, which ATC uses to instruct inbound airplanes on which part of the runway to aim for during land.
What does this marking indicate?
You just landed on runway 36L at Oshkosh!
Now is a great time to take our quiz on airport signs and markings.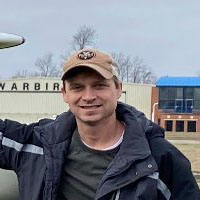 Latest posts by Chris Clarke
(see all)
https://media.flighttrainingcentral.com/wp-content/uploads/2022/06/07145457/RWSL-KMCO-1-scaled.jpg
1822
2560
Chris Clarke
https://flighttrainingcentral.com/wp-content/uploads/2022/01/FTC-logo-horizontal-fianl.png
Chris Clarke
2023-10-16 14:35:48
2023-10-16 14:59:39
Ten airport signs, markings, and lights all pilots should know