Quiz: Can You Identify These Airport Signs and Markings?
1

min read
Taxiing around large airports is often one of the more challenging aspects when learning to fly. Studying the various signs and markings in preparation for operating at an airport with a complex taxiway and runway layout will help you better understand the system and improve your situational awareness as you move from the parking area to the active runway.
Take our quiz and see if you can correctly distinguish these signs and pavement markings that you will see at larger tower-controlled airports.
What might you expect when you see this sign?
What is on the dashed side of this double yellow line?
Regardless of where they're located, white ground markings designate what?
Where are you located when you see this sign?
When on the runway, what information will this sign give you.
What do the yellow chevrons indicate?
What does a large yellow "X" placed on each end of the runway mean.
What does this sign mean?
What is the purpose of this marker?

Can You Identify These Airport Signs and Markers?
You got out of

9

right!
Want to learn more about flying at towered airports and how to move around on the ground using airport signs and markings? Check out Sporty's 2022 Learn to Fly Course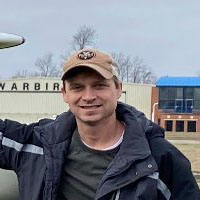 Latest posts by Chris Clarke
(see all)
https://studentpltnews-images.s3.us-east-2.amazonaws.com/wp-content/uploads/2016/03/05181707/featured.jpg
917
1630
Chris Clarke
https://flighttrainingcentral.com/wp-content/uploads/2022/01/FTC-logo-horizontal-fianl.png
Chris Clarke
2022-01-10 10:10:41
2022-01-11 12:23:51
Quiz: Can You Identify These Airport Signs and Markings?