1

min read
Ground operations at busy tower-controlled airports can be challenging for pilots of all experience levels and is an important skill you will learn during private pilot training. Test your knowledge of taxiway diagrams, airport signs and markings and ATC clearances in our latest quiz.
How does the FAA define runway incursions?
In an effort to verify you are on the correct runway for takeoff, you should:
What is the purpose of a yellow demarcation bar?
Runway numbers are determined from:
Which of the following can cause a runway incursion?
How are temporarily closed runways handled?
When receiving taxi instructions from ATC, you should always read back:
When can you cross an active runway at a control towered field?
When should you enter a runway for takeoff at pilot-controlled fields?
ATC issues the clearance, "Piper 67BL, fly heading runway heading, climb and maintain 2,000 feet, cleared for takeoff runway 8." Which way do you turn when entering the runway?
What is the significance of hotspots on taxiway diagrams?
When approaching a runway hold short marking (area D), which side of the double yellow lines is the aircraft permitted to cross without ATC approval?
After contacting ground control you are instructed to taxi to, and hold short of Runway 22. Upon reaching the holding area, which sign will you see?

Runway Safety
You got out of

13

right!
Still have more answers? Check out our other quizzes.
Want to learn more about runway safety? Check out Sporty's Learn To Fly Course for more in depth training on this subject.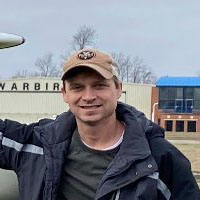 Latest posts by Chris Clarke
(see all)
https://studentpltnews-images.s3.us-east-2.amazonaws.com/wp-content/uploads/2020/02/05162447/skylandLUK-1.jpg
1018
1812
Chris Clarke
https://flighttrainingcentral.com/wp-content/uploads/2022/01/FTC-logo-horizontal-fianl.png
Chris Clarke
2021-11-08 10:29:23
2021-11-08 12:52:56
Quiz: Runway Safety