Quiz: Flight Planning with Sporty's E6B
1

min read
There are many aviation calculations required for preflight preparation and when planning a cross-country trip. In the early days, pilots used a mechanical circular slide rule, called an E6B. Electronic E6B calculators came next, which were more intuitive to operate and provide more accurate results.
During flight training, you'll learn to plan your cross-country flights first by hand and use the E6B each step of the way. You'll also find it to be a handy companion when studying for the FAA knowledge exam. It will assist with flight planning questions and you can bring your electronic E6B into the testing center to use during the actual test. The electronic E6B is equally useful when in the airplane, to help determine actual winds aloft, true airspeed, fuel burn, and descent planning. 
We'll use the Sporty's electronic E6B flight computer in this quiz when calculating flight planning and navigation questions. You can use any E6B flight computer to answer this quiz, though you may see minor differences in the results due to rounding. For a comprehensive guide to the questions in the quiz plus instructions describing all the remaining functions and features, read the Sporty's E6B Flight Computer Manual.
Find the density altitude of an airport with a field elevation of 843', an air temperature of 7º Celsius, and a barometric pressure of 29.83".
Find the crosswind component for Runway 36 if the reported wind direction is 320º at 12 knots.
Calculate the planned groundspeed if the winds aloft are forecast to be from 250º at 15 knots flying a true course of 130º with a true airspeed of 112 knots.
Calculate the flight time for a 45 nautical mile leg using the groundspeed determined in the previous question.
Determine the fuel required to complete the same 45 nautical mile leg with an estimated fuel burn of 8.5 gallons per hour and the flight time determined from the previous question.
Calculate the endurance of an aircraft that contains 53 gallons of fuel and burns 9.8 gallons per hour.
Calculate the actual true airspeed given the following flight conditions.
Determine the actual groundspeed in flight with a leg time of 24.5 minutes and a distance of 54 nautical miles.
Calculate the distance flown in nautical miles using the previously calculated ground speed and a leg time of 30 minutes.
Calculate the actual wind speed using the following conditions.

E6B Flight Computer
You got out of

10

right!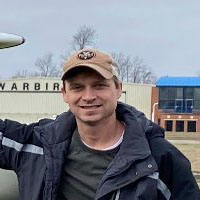 Latest posts by Chris Clarke
(see all)
https://studentpltnews-images.s3.us-east-2.amazonaws.com/wp-content/uploads/2022/01/05155319/e6b.jpeg
720
1280
Chris Clarke
https://flighttrainingcentral.com/wp-content/uploads/2022/01/FTC-logo-horizontal-fianl.png
Chris Clarke
2023-06-12 12:00:42
2023-06-12 14:21:01
Quiz: Flight Planning with Sporty's E6B