Quiz: Preflight Planning an IFR Flight
1

min read
There are many details to consider when planning a flight under Instrument Flight Rules. Mix in some inclement weather, and the workload increases exponentially. Answer all these questions correctly and prove you have the keys to unlock a successful IFR flight.
1. An airport may not be qualified for alternate use when filing an IFR flight plan if
2. How many precision approach procedures are published for William P Hobby Airport?
3. You are planning an IFR flight off established airways below 18,000 ft MSL. If you use VOR navigation to define the route, the maximum distance between NAVAIDS should be
4. Preferred IFR routes beginning with a fix, indicate that departing aircraft will normally be routed to the fix by
5. What service is provided by departure control to an IFR flight when operating within Class C airspace?
6. Your transponder is inoperative. What are the requirements for flying in Class D airspace?
8. ATC has approved your request for VFR-on-top while on an IFR clearance. Therefore, you
9. What does declaring 'minimum fuel' to ATC imply?
10. How can you determine if the destination airport has non-standard IFR alternate minimums?

How To Plan An IFR Flight
You got out of

9

right!
Want to learn more about IFR flight planning? Check out Sporty's Instrument Rating Course for more in-depth training on this subject.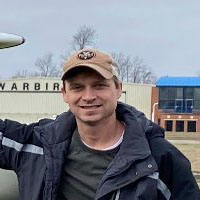 Latest posts by Chris Clarke
(see all)
https://studentpltnews-images.s3.us-east-2.amazonaws.com/wp-content/uploads/2018/02/05171453/ILS-approach-runway-lights-scaled.jpg
1440
2560
Chris Clarke
https://flighttrainingcentral.com/wp-content/uploads/2022/01/FTC-logo-horizontal-fianl.png
Chris Clarke
2023-02-27 08:14:33
2023-02-27 09:25:07
Quiz: Preflight Planning an IFR Flight