What's new in Sporty's 2021 Learn to Fly Course
5

min read
One of the best investments you can make as a student pilot (or a rusty pilot) is a good home study course. While your flight lessons will form the core of your training, there's a lot of work to be done in between trips to the airport. Sure, you'll need something to help you prepare for the FAA knowledge test, but the benefits of a course go far beyond that. It will also help you save a significant amount of time and money by preparing for each lesson at home. Most importantly, you'll be a safer, more well-rounded pilot after you earn your certificate.
Sporty's Learn to Fly Course has been a popular option for decades, and is famous for its relentless pace of innovation. Every year, we add new content, new training tools, and technological enhancements. This year is no exception, with a host of upgrades that make training more engaging and more efficient. Here's a look at some highlights.
New video segments
The heart of Sporty's courses is over 15 hours of dynamic HD video that puts the viewer in the airplane, supplemented by sophisticated 3D animations. No boring lectures or slideshows here—it's all about real world flying. The 2021 edition continues this focus with plenty of new video, including segments on how to use flight following with air traffic control, how to plan a cross-country flight with an iPad, and how to use ForeFlight's Imagery tab. Plus, dozens of smaller updates include the latest technology and FAA regulation changes, so you're always up-to-date.
All-new online platform
Log into Sporty's Pilot Training platform in your web browser and you'll find an all-new look. The same great information is there, but under the hood everything is fresh; it's faster, easier to use, and completely mobile-friendly. Menus are easy to access on different screen sizes and video automatically streams at the highest quality possible, based on your internet connection. Whether you train on a laptop, a tablet, or a smartphone, every feature is available.
Test prep question search
With an exclusive database of over 1,000 test questions and the popular Smart Study feature, nobody has better knowledge test prep tools than Sporty's. For 2021, we've added yet another. Now you can build your own study session from any keyword you choose. Want to brush up on airspace? Just search for that phrase and start studying relevant questions. It's a fast and easy way to focus on the topics that need work, without getting bogged down in questions you've already mastered.
Microsoft Flight Simulator lessons
This new simulator is taking the aviation world by storm, but it's much more than just a game if used properly. This detailed lesson guide, developed by the flight instructors at Sporty's Academy, is the bridge between Sporty's Learn to Fly Course and Microsoft's latest home flight simulator. Includes tips for getting started, plus 14 suggested simulator training flights, complete with objectives, scenarios, tasks to accomplish, and performance goals.
Enhanced flashcard mode
Once you've completed the video segments and test prep study sessions, our flashcard mode is a great way to study for your knowledge test or checkride without seeing multiple choice answers. Now updated and expanded, this feature allows you to digitally flip the cards and see how well you've mastered important topics.
ACS with embedded videos
The FAA's Airman Certification Standards is your guide to the checkride and an essential reference document, listing every maneuver the examiner will expect you to perform. We include the full text of the ACS, organized by task for easy navigation. Plus, only Sporty's includes relevant video segments for each section, so you can review the right way to do a steep turn while reading the completion standards. It's the ultimate checkride preparation tool.
Bring your own documents
Sporty's Learn to Fly Course includes dozens of helpful documents in the library section, from FAA textbooks to important Advisory Circulars. Now you can upload your own documents, whether it's a scanned copy of your airplane's manual or your flight school's training documents. This is a simple and reliable way to keep all your training materials in one place, and a solid backup.
Video transcripts
Perfect for review sessions, or for students whose first language is not English, the course now includes complete transcripts for each video segment. Click on a video and you'll see the text displayed underneath, so it's easy to follow along as you watch.
Lifetime updates
Never worry about out-of-date materials or missing features with Sporty's free lifetime updates. Simply buy the course once and you own it forever—no subscriptions and no upgrade fees required. Every time you log in to the online training portal or open up the Pilot Training app, you'll have access to the latest video segments, test question updates, and training features. It's an incredible value: for the price of one flight lesson, you'll save thousands of dollars over your flying career.
Learn more about Sporty's 2021 Learn to Fly Course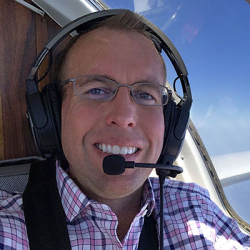 Latest posts by Bret Koebbe
(see all)
https://studentpltnews-images.s3.us-east-2.amazonaws.com/wp-content/uploads/2020/10/05170428/2021-LTF-main-wide.jpg
592
1200
Bret Koebbe
https://flighttrainingcentral.com/wp-content/uploads/2022/01/FTC-logo-horizontal-fianl.png
Bret Koebbe
2020-10-26 13:55:04
2021-08-19 14:20:22
What's new in Sporty's 2021 Learn to Fly Course