Complete Private Pilot Training
There's a lot to learn as a new pilot, but the good news is you can do much of that learning on your own schedule. In between flight lessons, a good home study course is an invaluable tool. You can review your previous lesson, learn the theory behind the maneuvers you fly, and prepare for the FAA written test. In the long run, this preparation can save you a lot of time and money.
Sporty's Learn to Fly course is a complete companion:
Save time and money
For the cost of a single flight lesson, this course will save you hours of time in the air and hundreds of dollars. The step-by-step video lessons are better than ground school, helping you prepare for your next flight lesson ahead of time so you spend less time reviewing and more time learning.
Get your written test endorsement
Ace the written with our interactive test preparation program. You can create customized study sessions from the actual FAA test questions and see the right and wrong answers, plus plain English explanations written by our team of CFIs. Then, take a practice test that simulates the real knowledge exam you'll have to pass. We'll even give you the flight instructor endorsement to take the written test—right from the course!
Pass all your tests—guaranteed!
Our course is so complete we guarantee you'll pass all three tests: the written, oral and flight. Incredible 3D animations and dynamic in-flight video make complicated subjects like aerodynamics and weather easy to understand, so you'll impress the examiner. Plus, our Airman Certification Standards Study Guide cross-references every required task to the videos, making it easy to review for the checkride.
Be ready for real world flying
Learning to fly means a lot more than just passing a test. That's why Sporty's course goes beyond the textbook to teach you real world flying, making you a safer, more confident pilot. Special Air Facts segments are packed with no-nonsense tips you can use after the checkride.
Covers Private, Recreational and Sport
Our Learn to Fly Course is really three courses in one – you choose the license that makes sense for you. Get started with your training and progress toward your first solo (volume 1-3), the critical first step for everyone. Then choose the Sport, Recreational or Private Pilot track – it's all here! Plus, experience has shown that students learn most effectively when the training process is divided into manageable steps. So each module builds on the previous one, creating a building-block approach that saves you time and money.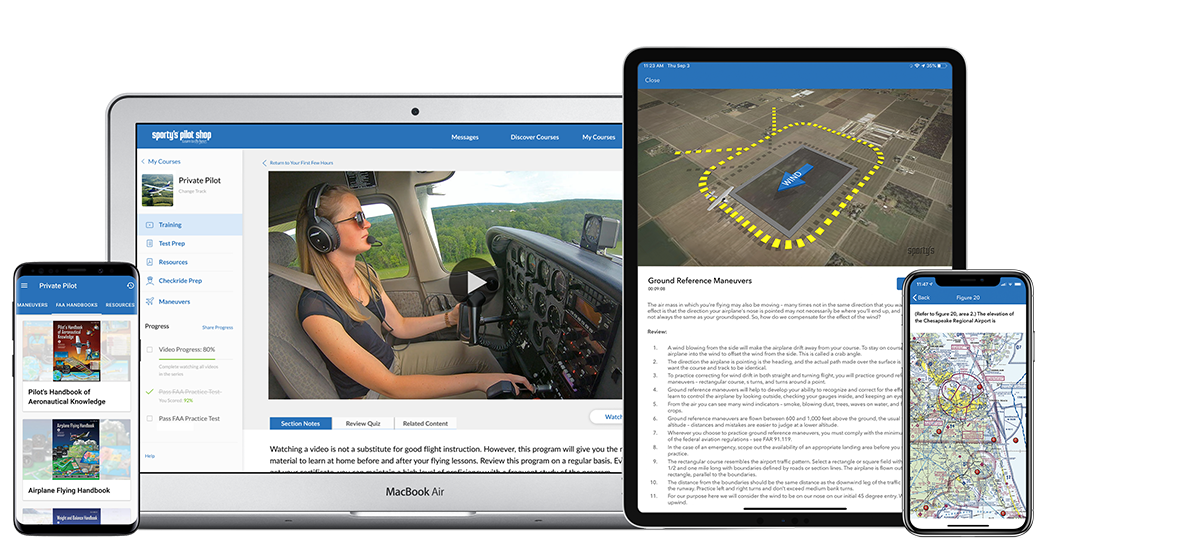 Five formats, one price
We know you're busy, so our course is available almost anywhere. Use our online learning platform for complete access to videos and quizzes anywhere you have an internet connection. There's no software to install – just log in and start learning. Or use our dedicated mobile apps for iPad, iPhone, Android, Apple TV, and Roku, which allow you to download videos for offline viewing. Progress automatically syncs between all formats so you can start a study session on your phone and finish on your laptop without missing a beat.
Free lifetime updates
When you buy a Sporty's course, you're gaining access to a training platform that's always up to date and always improving. We are continually adding new video segments to reflect new regulations and technology. We also refresh our FAA test question database regularly, so you don't study outdated topics. There's no additional fee or subscription to receive these updates – just log in and learn!
Free Demo
Download a free demo of the iPad/iPhone app.
Download a free demo of the Android app.
Try a free demo of the online course.
Buy Now
Sporty's course is available for $279 – click here to purchase the course