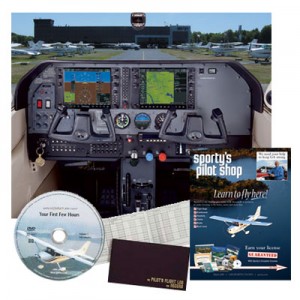 Let Sporty's help you start flying, with our free Intro to Flying Kit. This Kit offers the information and motivation to start taking lessons, all from the experts at Sporty's.
Includes:
An informative letter welcoming you to aviation, explaining what it takes and where to get more information.
An exciting DVD that shows the fun and utility of personal aviation. It also explains the fundamentals of flight and how to get started with flight training. It's over 2 hours of engaging instruction that can get a person from the living room into the cockpit.
A student pilot logbook, with room to log up to 20 flights and several miscellaneous solo endorsements.
The latest copy of Sporty's Pilot Shop catalog, packed with all the products needed to learn to fly.
A famous Sporty's cockpit poster, featuring the popular Cessna 182 with the amazing Garmin G1000 cockpit. This large, color poster makes a unique addition to any aspiring pilot's wall.
A free 6-month subscription to AOPA Flight Training magazine.