Flight School and Instructor Guide to Sporty's Pilot Training Courses
8

min read
This guide was designed for flight instructors and flight school owners to get the most out of using Sporty's Learn to Fly, Instrument Rating, and Commercial pilot courses with your students. You'll learn how to create a free Sporty's CFI Portal account and how to connect with your students to monitor their progress.
---
Why use Sporty's Courses in your flight school
Make money selling Sporty's Courses to your students
How to enroll in Sporty's CFI Portal
Monitoring your student's progress in the CFI Portal
Chief CFI: Connect with your CFIs and view all flight school students
How to renew your CFI certificate with Sporty's free FIRC
Flight Schedule Pro Integration
---
Why use Sporty's Courses in your flight school
Sporty's Learn to Fly Course provides a modern, comprehensive training solution for your flight school that is sure to increase enrollment and improve retention and performance. Sounds too good to be true?
Increase Retention Rates – Sporty's courses cover every element of flight and ground training from start to finish. Our course is designed to be part of your student's daily training and prepare and endorse students for the FAA knowledge exam. The course is delivered in an easy-to-use online learning management system. Students can choose online or app and study whenever and wherever their busy schedules allow. These courses will keep your student engaged in the training process and excited about returning to the airport.
Cut Overhead – We encourage you to use our included FAA-approved training course outlines as your curriculum. The TCO will allow consistency and quality throughout the training process and provide the confidence to resonate with your customers.
Sporty's courses will encourage professional lesson presentations every time with little or no preparation. We offer an Instructor Guide to teach ground lessons so the instructor will need only one reference to prepare. Our Maneuvers and Procedures Guide will provide this same guidance in the air. Standardization training will no longer cost you money.
Boost Revenue – More students requiring less ground preparation will mean more time for your instructors in the air and better student performance. Moreover, our built-in ground lessons mean no more cancellations due to weather.
Make money selling Sporty's Courses to your students
Sporty's was founded by a flight instructor over 60 years ago, and ever since we've worked hard to support student pilots and CFIs. Sporty's is pleased to offer several partnership opportunities for both flight schools and independent CFIs to generate revenue when using Sporty's courses with your students.
Sporty's Dealer Program
Sporty's has designed our dealer program, to offer high-quality pilot supplies and educational products at an excellent value. Whether you're looking for an aviation curriculum, which can be found in Sporty's Pilot Training Courses, or a complete line of pilot supplies, including Flight Gear Bags, kneeboards, logbooks and more, Sporty's has the products to help your students and your business.
You can purchase eligible items from Sporty's, including most of our training courses, at a discount and sell them to your students at Sporty's minimum resale price (the same as customers see in our catalog and on our website).
Apply to be a Sporty's Dealer here
Sporty's CFI Rebate Program
Flight Instructors also have the option to earn Sporty's gift cards when referring their students to purchase a course from Sporty's. After enrolling in the free CFI rebate program and sharing your referral code with your students, you'll earn a $25 gift card every time one of your students buys a Sporty's course. These gift cards do not expire and can be used online, in-store or over the phone.
Register for Sporty's CFI Rebate Program here
How to enroll in Sporty's CFI Portal
Sporty's Learn to Fly Course isn't just for independent studying; a comprehensive CFI portal connects instructors with their students' at-home study sessions, making the flight training process more organized and efficient.
This suite of tools includes lesson plans, a flight instructor refresher course, a complete FAA library, special CFI offers, and full access to Sporty's award-winning pilot training courses for you to learn more about what your students are using. Best of all, every feature is free to any active flight instructor. 

Register for a free CFI account
The first step to get started is to navigate to and bookmark sportys.com/cfi. This is the portal to all the free resources and access to your student progress. If you already have a Sporty's account, log in using your email address and password. Otherwise, follow the prompts to create a free account and login.
You will be prompted to enter your CFI credentials when creating your account. These fields are labeled as optional but are required to access some of the advanced features of the CFI portal. Enter your CFI certificate number and the date that your CFI certificate expires.
Monitoring your students' progress in the CFI Portal
There are two ways to link a student to the student roster in the CFI portal. First, the student can use the "Share Progress with my CFI" option at the bottom left of the main menu in their course. After entering your email address, they will automatically show up in the Students section of your CFI Portal:
The other option is to invite the student from the CFI Portal, using the Invite student button at the top right of the Students view. The student will receive an email and inbox notification in their course, where they must accept the invitation.
Chief CFI: Connect with your CFIs and view all flight school students
Sporty's CFI portal also offers a powerful feature designed for the Chief CFI and flight school management to connect with individual instructors at the school and monitor all student progress in one location. This feature requires a manual setup step from Sporty's support team.
Creating a Chief CFI Account
After first creating a traditional CFI account as described above, email our Sporty's Courses Support team at [email protected] with the following info:
Include "Setup my Chief CFI account" in the email subject line

Identify your flight school name

Identify your role at the flight school

Include the email address used for your CFI account
A representative from Sporty's will be in touch and set up your account within 1 to 2 business days.
Connect with your instructors
Chief CFIs will have an additional option on the left side menu in the CFI Portal to connect with instructors at the flight school. Select this option, and use the "Invite Instructors" button to send an email invite out to the instructor (they must first have a Sporty's CFI account before you can invite them). After accepting, you'll see all the instructors connected to your account.
You may search or sort this list of instructors much like you can do with the list of students. Clicking on an instructor will drill down into a new list of that instructor's students. You may now interact with that student's progress as if you were their flight instructor.
How to renew your CFI certificate with Sporty's free FIRC
Sporty's is pleased to offer its online eFIRC free as a convenient, effective, online renewal option. This FIRC was updated and expanded for 2023, satisfies the requirements to renew your CFI and will vastly improve your teaching skills. 
Sporty's eFIRC features an all-new online learning portal, universally accessible for PC, MAC, and mobile devices including iPad and Android platforms via any modern web browser. 
There is no software to install. Simply log in anywhere you have an internet connection and begin your flight instructor refresher training. Sporty's eFIRC is not available through the Pilot Training mobile app.
Enroll in Sporty's FIRC
Sporty's FIRC is instantly available to any certified flight instructor verified for Sporty's CFI portal.
Provided that you have already been validated as a Sporty's CFI as described earlier, you can start the FIRC course by selecting "FIRC" in the menu on the left and clicking the blue "Access Sporty's FIRC" button. This button will launch the training course. If you are not signed in or your credentials have not been verified, the blue button will redirect you to complete the CFI Portal registration.
Flight Schedule Pro Integration
Sporty's Academy developed full Training Course Outlines (TCOs, aka Syllabus) for its part-141 approved flight school at Sportry's headquarters in Cincinnati, Ohio, for Private Pilot, Instrument Rating and Commercial Pilot courses. Here will discuss how to use them with your students in Flight Schedule Pro.
Using Sporty's TCOs in Flight Schedule Pro
Flight Schedule Pro (FSP) offers complete flight school management software to assist with aircraft scheduling, billing and student progress tracking in a syllabus. Sporty's has partnered with FSP to make all our Private, Instrument and Commercial TCOs available in an interactive format in FSP. If you are an FSP Training Hub user, you will see the option to select Sporty's as a training partner when setting up a new course,
In addition to saving you time in setting up each lesson, Sporty's TCOs in FSP include interactive links in the Recommended Study section for each lesson, which allow your instructors and students to quickly jump to the relevant lesson in their Sporty's online or mobile app course.
For more information
Contact Mark Wiesenhahn, Sporty's Flight School Courses Sales Coordinator, to start using Sporty's Pilot Training Courses at your flight school – [email protected]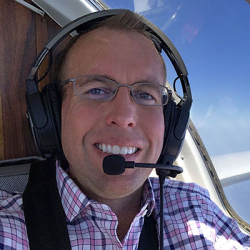 Latest posts by Bret Koebbe
(see all)
https://studentpltnews-images.s3.us-east-2.amazonaws.com/wp-content/uploads/2023/09/05171215/image5.png
901
1999
Bret Koebbe
https://flighttrainingcentral.com/wp-content/uploads/2022/01/FTC-logo-horizontal-fianl.png
Bret Koebbe
2023-09-07 10:10:28
2023-09-07 12:55:18
Flight School and Instructor Guide to Sporty's Pilot Training Courses