Quiz: Wake Turbulence Avoidance
1

min read
As an airplane wing flies through the air an invisible danger swirls in its wake. The aerodynamic phenomenon known as wingtip vortices leave behind a circular pattern of rotating air. The resulting wake turbulence can be a serious hazard to light aircraft and a firm knowledge of their creation and dissipation is essential to staying safe while in the cockpit.
Wake turbulence is especially hazardous in the region behind an aircraft in the takeoff or landing phases of flight. During takeoff and landing, aircraft operate at a high angle of attack. This flight attitude maximizes the formation of strong vortices. In the vicinity of an airport, there can be multiple aircraft, all operating at low speed and low height, and this provides extra risk of wake turbulence with reduced height from which to recover from any upset.
The greatest vortex strength occurs when the generating aircraft is
Wingtip vortices created by large aircraft tend to
How does the wake turbulence vortex circulate around each wingtip?
Wingtip vortices are created only when an aircraft is
When landing behind a large aircraft, which procedure should be followed for wake turbulence avoidance?
The wind condition that requires maximum caution when avoiding wake turbulence on landing is a
When departing at an airport where heavy aircraft are operating, you can avoid wake turbulence by

Wake Turbulence Avoidance
You got out of

7

right!
Still have more answers? Take our other pilot training quizzes.
Want to learn more about wake turbulence? Check out Sporty's Learn To Fly Course for in-depth training on this subject.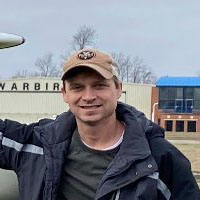 Latest posts by Chris Clarke
(see all)
https://studentpltnews-images.s3.us-east-2.amazonaws.com/wp-content/uploads/2016/04/05181426/landingMountainDust.jpg
683
1214
Chris Clarke
https://flighttrainingcentral.com/wp-content/uploads/2022/01/FTC-logo-horizontal-fianl.png
Chris Clarke
2023-07-10 09:00:07
2023-07-10 10:15:56
Quiz: Wake Turbulence Avoidance