Quiz: VFR Cross-Country Flight Planning
1

min read
Winds aloft, true course, heading and groundspeed. Can you put all the puzzle pieces together and plan a successful cross-country flight? Use this quiz to test your flight planning knowledge and see if you can get a perfect score.
Which statement about longitude and latitude is true?
An aircraft departs an airport in the central standard time zone at 0845 CST for a 2-hour flight to an airport located in the mountain standard time zone. The landing should be at what coordinated universal time?
How far will an aircraft travel in 2 minutes with a groundspeed of 120 knots?
When converting from true course to magnetic heading, a pilot should
Determine the approximate latitude and longitude of Currituck County Airport.
En route to First Flight Airport (KFFA), your flight passes over Hampton Roads Airport (KPVG) at 1455 and then 10 miles later over Chesapeake Regional (KCPK) at 1500. At what time should your flight arrive at First Flight?
Determine the magnetic course for a flight from Shoshone (S83) to Deer Park (KDEW). The wind is from 340° at 10 knots, and the true airspeed is 90 knots.

Flight Planning
You got out of

7

right!
Still have more answers? Check out our other flight training pilot training quizzes.
Want to learn more about cross-country flight planning? Check out Sporty's Learn To Fly Course for more in-depth training on this subject.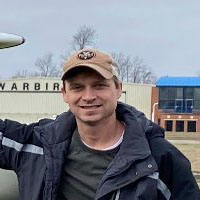 Latest posts by Chris Clarke
(see all)
https://studentpltnews-images.s3.us-east-2.amazonaws.com/wp-content/uploads/2017/07/05175427/flight-plan-feature.jpg
1080
1920
Chris Clarke
https://flighttrainingcentral.com/wp-content/uploads/2022/01/FTC-logo-horizontal-fianl.png
Chris Clarke
2022-11-07 12:17:31
2022-11-07 15:25:31
Quiz: VFR Cross-Country Flight Planning