What's new in Sporty's 2023 Pilot Training Courses
5

min read
One of the best investments you can make as a student pilot (or a rusty pilot) is a good home study course. While your flight lessons will form the core of your training, there's a lot of work to be done in between trips to the airport. Sure, you'll need something to help you prepare for the FAA knowledge test, but the benefits of a course go far beyond that. It will also help you save a significant amount of time and money by preparing for each lesson at home. Most importantly, you'll be a safer, more confident pilot after you earn your certificate.
Sporty's Pilot Training Courses are used by tens of thousands of pilots every year and represent a complete flight training companion. Each includes over 15 hours of HD video, comprehensive test prep tools, and a complete FAA document library. Sporty's courses are famous for a relentless pace of innovation; every year, we add new content, new training tools, and new platforms. This year is no exception, with a number of significant upgrades that make training more engaging and more efficient. Here's a look at some highlights.
New platforms
Train anywhere, anytime—that's always been Sporty's promise. A single purchase includes lifetime access to the Learn to Fly Course on a huge variety of platforms, including web browser, iOS devices, Android devices, and smart TVs like Roku. Progress is automatically synced between devices, so it's easy to switch back and forth as your study sessions move.
The latest enhancement brings an all-new version of Sporty's Pilot Training app to Apple computers, allowing pilots to access courses natively on a Macbook, iMac or Mac Pro. Many video segments are produced in 4K resolution, so they look great on the big screen of an iMac. The Mac app was designed to work offline too, making it a great companion when traveling on the airlines or when an internet connection isn't available. The test prep components are automatically saved for offline use when downloading the app, and you can then download videos to your Mac's hard drive.
When you leave your desktop computer behind, you can now use Sporty's course in CarPlay-equipped vehicles. This feature allows iPhone users to access a few select iOS communication and media apps on touch-capable infotainment screens in compatible cars. Sporty's Pilot Training app is a natural fit for CarPlay, allowing pilots to listen to the audio training segments. This is great for reviewing a segment after you've watched the video or for brushing up on today's flight lesson topic while you drive to the airport.
The online version of Sporty's course remains one of the most popular formats, and it's also updated for 2023. The new layout is faster, easier to navigate, and works flawlessly on phones and tablets. There is no software to install—just log in and start learning, no matter what device you're using.
New resources
Once you've logged into the course, there are a number of new training resources that complement the award-winning video segments. Perhaps the most noticeable addition is an interactive Federal Aviation Regulations (FARs) tool. This includes all the rules you'll need to know as a student and private pilot, from certificate requirements to weather minimums. Sporty's FAR database is continually updated every time you log in, so you'll always have the latest information. Navigating through the sections is lightning fast and a search box makes it easy to find regulations on specific topics.
The companion to the FARs, the Aeronautical Information Manual (AIM), is also included and can be found in the FAA Handbooks section of the course. Like many other reference documents in this section, the AIM is presented in full color, including all tables and graphics. You can search, bookmark, and highlight sections for further study.
Another valuable resource is the Training Course Outline, the same lesson-by-lesson syllabus used in Sporty's flight school. Each page includes the lesson objective, content, and completion standards. Now the bottom of the page includes required study links for quick access to relevant video sections and FAA manuals.
Finally, many video sections now feature a Related Content tab. This suggests resources for pilots who want to dive deeper, including additional videos, websites, and FAA publications.
New videos
The heart of Sporty's course has always been the dynamic video segments. From first flight all the way through checkride, you'll see what to expect and learn how to master complicated maneuvers. The team at Sporty's is continuously updating and expanding these videos to keep up with both changing technology and the latest training techniques.
New for 2023 are major updates to the cross-country planning segments. Detailed lessons include: how to complete a nav log, how to use a plotter with a sectional chart, step-by-step instructions for making calculations with both electronic and manual E6B, preflight weather briefing tips, and an introduction to glass cockpits. Throughout the videos, the focus is on practical skills, not rote memorization.
Customer favorites
All of these upgrades join an already impressive list of features, including powerful FAA knowledge test prep tools. Sporty's course includes a proprietary database of over 1,000 FAA test questions, customizable study modes, and unlimited practice tests. You can even earn an automatic flight instructor endorsement to take the test when you're done.
Best of all, you never have to worry about out-of-date materials or missing features with Sporty's free lifetime updates. Simply buy the course once and you own it forever—no subscriptions and no upgrade fees required. Every time you log in to the online training portal or open up the Pilot Training app, you'll have access to the latest video segments, test question updates, and training features. It's an incredible value: for the price of one flight lesson, you'll save thousands of dollars over your flying career.
Learn more about Sporty's Learn to Fly Course >>
Learn more about Sporty's Instrument Rating Course >>
Learn more about Sporty's Commercial Pilot Course >>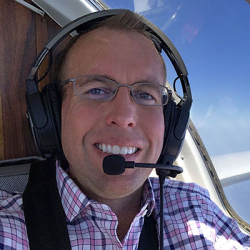 Latest posts by Bret Koebbe
(see all)
https://studentpltnews-images.s3.us-east-2.amazonaws.com/wp-content/uploads/2022/09/28101827/2023Courses-feature.jpg
1000
1000
Bret Koebbe
https://flighttrainingcentral.com/wp-content/uploads/2022/01/FTC-logo-horizontal-fianl.png
Bret Koebbe
2022-09-29 16:22:15
2022-10-03 09:08:13
What's new in Sporty's 2023 Pilot Training Courses