Quiz: Aircraft Weight and Balance
1

min read
Weight and balance is a critical element that every pilot must reconcile before each flight. Many of the performance, handling and structural characteristics of an airplane are a function of weight and balance. Not to mention the safety risk associated with operating an over loaded or out of balance airplane.
Challenge your weight and balance understanding with this quiz and answer each question correctly to tip the scales in your favor.
1. Which items are included in the empty weight of an aircraft?
2. An airplane has been loaded in such a manner that the CG is located aft of the aft CG limit. One undesirable flight characteristic a pilot might experience with this airplane would be
3. Loading an airplane to the most aft CG will cause the airplane to be
4. Calculate the total moment of the airplane given 210 pounds of fuel, 260 pounds of front seat passengers, 210 pounds of rear seat passengers and an empty moment of 50 lb-ins.
5. An aircraft is loaded 120 pounds over maximum certificated gross weight. If fuel (avgas) is drained to bring the aircraft weight within limits, how much fuel should be drained?
6. One undesirable condition that may occur if an aircraft is loaded beyond the forward CG limit is
7. If a 2 pound weight is located at point X and 4 pounds at point Y, how much weight must be located at point Z in order to balance the plank?
8. What is the maximum amount of fuel that may be aboard the airplane on takeoff if loaded as follows? Empty weight 1,400 lbs. Pilot and front passengers 350 lbs. Rear passengers 200 lbs. Baggage 50 lbs.

Aircraft Weight and Balance
You got out of

8

right!
Still have more answers? Take all our other quizzes.
Want to learn more about aircraft weight and balance? Check out Sporty's Learn To Fly Course for more in depth training on this subject.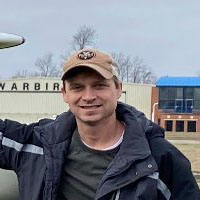 Latest posts by Chris Clarke
(see all)
https://studentpltnews-images.s3.us-east-2.amazonaws.com/wp-content/uploads/2017/05/05175859/wbfeature1.jpg
720
1280
Chris Clarke
https://flighttrainingcentral.com/wp-content/uploads/2022/01/FTC-logo-horizontal-fianl.png
Chris Clarke
2022-07-12 10:30:54
2022-07-14 10:21:37
Quiz: Aircraft Weight and Balance