Quiz: Aircraft Engine Mixture Control
1

min read
For some student pilots the mixture control is a thing of mystery. It gets pulled out to shut off the engine, so let's just leave it alone in flight. Its operation might seem elusive to new pilots but correct operation is critical to keeping the engine running smoothly and for maximum fuel savings. Answer these questions and see if you're rich on mixture knowledge.
As altitude is gained, the density of air entering the engine decreases yet the amount of fuel will remain the same. This fuel / air ratio can be adjusted using which control?
What scenario is most likely to cause a spark plug to foul?
One good way to temporarily stop detonation or preigntion while in flight would be to
Operating an aircraft engine at high power settings and the mixture too lean can result in what condition?
Which engine instrument is best for determining proper mixture settings?
What procedure is used to achieve the best power mixture setting without an EGT?
What is the term for an engine running on a chemically correct (stoichiometric) mixture where the fuel burn is at it hottest?

Aircraft Engine Mixture Control
You got out of

7

right!
Want to learn more about avoiding wake turbulence? Check out Sporty's Learn To Fly Course for more in depth training on this subject.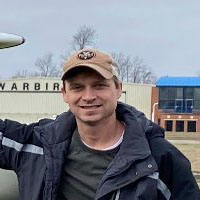 Latest posts by Chris Clarke
(see all)
https://studentpltnews-images.s3.us-east-2.amazonaws.com/wp-content/uploads/2016/05/05181253/mixtureFeature.jpg
1080
1581
Chris Clarke
https://flighttrainingcentral.com/wp-content/uploads/2022/01/FTC-logo-horizontal-fianl.png
Chris Clarke
2018-08-06 10:00:48
2021-08-19 13:21:23
Quiz: Aircraft Engine Mixture Control