For less than the cost of a typical flight lesson, Sporty's Learn to Fly app will save you hours of time in the air and hundreds of dollars in training.  This is not a weekend "cram course" or a boring ground school – it's a modern, comprehensive learning system that includes ground school, test prep and flight training all in one course and it's now even better. Preview the course now.
Sporty's Learn to Fly app now includes:
Video Training Pause/Resume feature – users now have the option to view a portion of a video segment and resume training at that same point at a later time.  After returning to the video training, users will be given an option to view the video training from the beginning or from where the video was paused. A new blue symbol appears in the top left corner of the video segment contents list to indicate partial progress. A green check mark indicates the user has watched the entire segment.
Enhanced progress reports – the online Learn to Fly Course features a Progress Reports tab that includes a record of each practice test to monitor progress. Each entry contains the course type, date, completion time, number or correct question and a grade. A new feature allows users to view completed test sessions and see correct answers with explanations or resume a previous session. This new feature can be incorporated into normal study or used with a flight instructor or study group for additional help.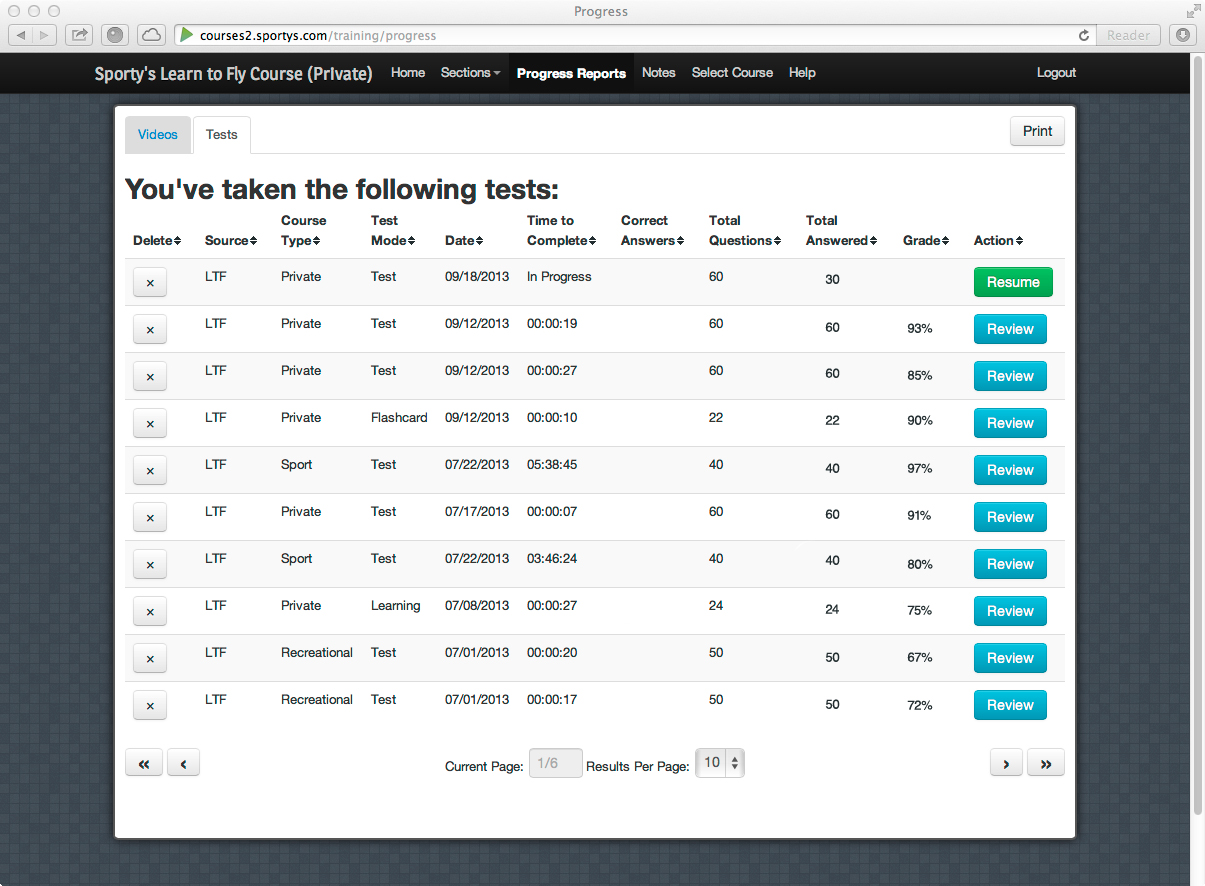 Pause/Resume feature added to test prep – Sporty's dedicated written test prep program, found within the online Learn to Fly Course, features three modes of operation.
Learning Mode is used for specific areas to study or randomly selected topics. Test mode will provide a random mix of questions simulating a real FAA exam while Flashcard mode allows users to answer questions without seeing answer choices in a self-graded environment.
Users now have the convenient option to pause any of the modes of operations during a session and return to complete the session at a later time.  Simply select the "Save & Quit" button and when you return to written test prep, a resume option will be present from the Progress Reports – also accessible from the Test Prep homepage.
iCloud Sync – enhancing the new pause/resume feature for video training and written test prep, and delivering even greater utility for your app, video and test prep progress is stored in iCloud.  Users can move from one iOS device to another and within seconds, video progress data as well as test prep progress reports will sync to from the user's iCloud account.
And remember these exclusive features…
Custom-designed for the iPad and iPhone
Universal app–purchase once and use on both devices
Save video segments for offline viewing
Continuous access to the latest content
You'll pass all your tests (we guarantee that)
You'll also have more fun learning to fly and be a better pilot after you earn your license. With Sporty's, you can even earn your FAA written exam endorsement directly from the course and it's accepted for FAA WINGS credit.
Try Sporty's online Learn to Fly app for the new low price of just $199 and know there's nothing extra to buy – just add flight instructor!