1

min read
While it may be true that any landing you can walk away from is a good landing, there is certainly something to be said about always striving to make better landings. Most experienced pilots would be willing to admit that the perfect landing is much more of an art than a science. Take this quiz on landing techniques to hone your touchdown knowledge in search of consistently smooth and safe landings and see if you can squeak out a perfect score.
1. In preparation for a normal landing, what actions should you accomplish when opposite the point of intended landing on downwind?
2. Flying any speed other than best glide speed during a power-off approach will result in what?
3. On the base leg before turning to final, what action should you take if you appear to be too low?
4. The forward slip turns the airplane's fuselage into the relative wind. How does this affect the airplane aerodynamically?
5. When on final approach with a strong headwind your groundspeed will be lower than in a zero wind condition. How will this affect your descent rate?
6. What is the proper corrective action if you bounce the airplane during landing?
7. Which statement is most accurate regarding the final approach leg?
8. On final approach when transitioning from the roundout to the flare:
9. What change should be made to the approach speed when making a crosswind landing without flaps in a brisk wind?

Landing Techniques
You got out of

9

right!
Want to learn more about aviation weather theory? Check out Sporty's Learn To Fly Course for more in-depth training on this subject.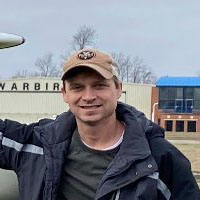 Latest posts by Chris Clarke
(see all)
https://media.flighttrainingcentral.com/wp-content/uploads/2018/11/05170510/p2s12.jpg
540
960
Chris Clarke
https://flighttrainingcentral.com/wp-content/uploads/2022/01/FTC-logo-horizontal-fianl.png
Chris Clarke
2023-11-06 09:57:30
2023-11-06 11:26:36
Quiz: Landing Techniques