Quiz: ADS-B Rules and Regulations
1

min read
The rules for transponder requirements changed in 2020, requiring aircraft to be equipped with ADS-B out transponders in most of the same airspace that previously required a Mode C transponder. Take our latest quiz and test your knowledge of the details of ADS-B rules.
You have a flight planned from Currituck Co. airport (area 3) to Norfolk International airport (area 1). What additional equipment is your airplane required to have, if any?
ADS-B Out equipment is required when flying:
Unless otherwise authorized, which situation requires Automatic Dependent Surveillance-Broadcast (ADS-B)?
You depart from Wood Co. airport (1G0 - area 5) and head northbound at 1,600' MSL under the Toledo Class C airspace to circle your house. Is the flight legal if the ADS-B system on your airplane was marked inoperative in the maintenance log?
You are flying along the coastline at 7,000' under the 9,000' MSL Class B shelf southeast bound (area 4). Are you required to have an ADS-B Out system?
You are performing a test flight in the vicinity of Onawa airport (K36) at 11,000' MSL. What additional equipment does the aircraft need to have installed?
You are flying from Gnoss Field Airport (DVO) to the private airport of San Rafael at 3,500' to meet your friend. What additional equipment does your aircraft need, if any?
Which of the following avionics equipment is required to be installed in your airplane to fly in Class A airspace?
Your planned flight overflies the Class C Sacramento International airport (SMF) from west to east at a cruising altitude of 9,500' MSL. Does the flight require ADS-B out equipment?
When flying through the lateral and vertical boundaries of Class C or B airspace, what additional equipment is your aircraft required to have installed, if any?
You have a flight planned from Auburn airport (AUN - area 8) to Sacramento Mather airport (MHR - area 6) at 4,500' MSL. What additional avionics equipment must your aircraft have installed?

ADS-B
You got out of

11

right!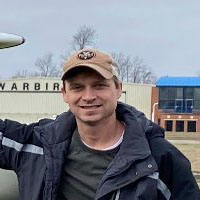 Latest posts by Chris Clarke
(see all)
https://media.flighttrainingcentral.com/wp-content/uploads/2017/02/05180241/How-ADS-B-Works-YT-Thumbnail-3.png
1080
1920
Chris Clarke
https://flighttrainingcentral.com/wp-content/uploads/2022/01/FTC-logo-horizontal-fianl.png
Chris Clarke
2023-04-10 10:00:54
2023-04-10 10:11:42
Quiz: ADS-B Rules and Regulations