Sporty's Learn to Fly Course adds new videos and training guides
3

min read
Sporty's courses are the ideal pilot training companion – everything you need to prepare for your written test and earn your certificate or rating, with ground school, test prep, and real-world training all in one easy-to-use system. New content, flexible app options, and smart study tools all combine to offer an unmatched training experience in Sporty's 2023 course editions. And better yet, your training content is accessible anywhere, on any device.
Students enrolled in Sporty's courses enjoy free lifetime updates to both content and features available across all online, mobile app and TV platforms. Here's a quick rundown covering the latest set of updates added this month.
New 4K video training segments
The heart of Sporty's training courses is dynamic HD and 4K video, focused on real-world flight training, ground school and test preparation. Here are the new sections to check out from the most recent update:
Training Airplanes (Chapter 1)

– learn about the different types of training airplanes available today

Airport Signs and Markings (Chapter 3)

– 3D graphics and visualizations bring the airport environment to life and show where you'll find each taxiway and runway sign and pavement marking

Aviation Charts (Chapter 4)

 – explore the purpose of VFR Sectionals, TACs and Flyway charts, and how to make use of the modern digital versions with these charts

NOTAMs

(Chapter 4) – review the latest types of Notices to Air Missions and where to find them when planning a flight

Time Zones

(Chapter 4) – learn all about how time zones came to be and how to convert from GMT/Zulu to local time
New smart FAR features
Sporty's 2023 Learn to Fly Course added a new interactive version of the Federal Aviation Regulations. Like all of the other content in Sporty's courses, this digital version of the FARs is always up to date. And it also includes a powerful search feature, so you can quickly jump to the section you're looking for.
The latest update adds two powerful new features to the FAR feature included in the iPhone/iPad version of the course, in Sporty's Pilot Training app. The first is a bookmarking feature, which allows you to save individual FARs in a custom library for later reference, using the flag button at the top right of the screen.
The second new feature is an FAR filter that will show only the regulations applicable to Private, Instrument or Commercial operations, allowing for more focused studying. You can enable these FAR filters or view just your bookmarked FARs using the filter button at the top of the main FAR menu:
Updated training documents
Sporty's Learn to Fly Course includes two comprehensive reference libraries to supplement the video training and test prep component. The FAA Handbooks section includes the latest versions of all the pertinent training guides, like the AIM, Airplane Flying Handbook, Pilot's Handbook of Aeronautical Knowledge and more, presented in a powerful PDF reader.
This recent update includes the latest version of the Aeronautical Information Manual (Change 3) released a few weeks ago. It also includes the latest version of Advisory Circular 90-48, titled Pilot's Role in Collision Avoidance. This helpful AC contains a wealth of practical information to help see and avoid potential traffic conflicts when flying in congested areas.
Want to learn more about Sporty's Learn to Fly Course? Check out the first 6 video lessons free here.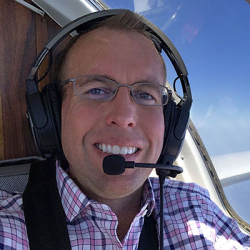 Latest posts by Bret Koebbe
(see all)
https://studentpltnews-images.s3.us-east-2.amazonaws.com/wp-content/uploads/2022/11/15164241/Screen-Shot-2022-11-15-at-3.42.21-PM.png
1842
2790
Bret Koebbe
https://flighttrainingcentral.com/wp-content/uploads/2022/01/FTC-logo-horizontal-fianl.png
Bret Koebbe
2022-11-15 18:42:34
2022-11-15 18:44:35
Sporty's Learn to Fly Course adds new videos and training guides