Sporty's launches suite of free flight instructor tools
4

min read
Sporty's Learn to Fly Course isn't just for independent studying; a comprehensive CFI portal connects instructors with their students' at-home study sessions, making the flight training process more organized and efficient. This suite of tools includes lesson plans, a flight instructor refresher course, a complete FAA library, special CFI offers, and access to Sporty's award-winning pilot training courses. Best of all, every feature is available free to any active flight instructor.
Progress tracking
After signing up, flight instructors can monitor the progress of their students in Sporty's pilot training courses, including video segments and test prep sessions. Detailed reporting makes it easy to review missed questions during a ground lesson, and CFIs can also watch the entire course to stay in sync on key topics.
When it's time to meet in person, Sporty's lesson plan guides provide detailed outlines that will save CFIs hours of time. The lesson-by-lesson syllabus offers a structured plan for training, while ground lesson guides and maneuver guides make each lesson more productive. Also included is Sporty's guide to FAA endorsements, with templates for the most common endorsements, from first solo to checkrides to proficiency endorsements.
Watch video lessons together
The Covid-19 pandemic taught many flight students and instructors that remote ground school lessons are now a possibility—using nothing more than a smartphone and common apps like FaceTime or Zoom. From reviewing the basics of aerodynamics to studying for the FAA written test, you no longer have to be at the airport together to learn.
Sporty's 2023 Pilot Training Courses are taking this idea to the next level, with support for Apple's unique SharePlay feature. Available for devices running iOS 15.1 or later, this allows two people to watch the same video while on a FaceTime call together. The app syncs video playback and controls, so both people see the same thing at the same time. Smart volume means you can talk while the video is playing—perfect for discussing complicated flight training lessons.
To use SharePlay, simply open Sporty's Pilot Training app and choose a video. Tap the up arrow to select SharePlay, then enter the contact you want to share the video with. Once you're connected to your instructor, tap Start to begin the video.
Flight Instructor Refresher Course
Sporty's CFI Portal also includes a complete Flight Instructor Refresher Course (eFIRC) that satisfies the requirements to renew a CFI and offers practical tips for improving teaching skills. Delivered in a convenient online format, it's universally accessible for PC, Mac, and mobile devices. This comprehensive course contains 17 lessons broken down into learning modules for ease of study, and like everything else it's completely free.
Flight instructors can also access the latest editions of essential FAA books, including the Airplane Flying Handbook, Pilot's Handbook of Aeronautical Knowledge, Aeronautical Information Manual, and much more. Each document is indexed and includes powerful search and annotation options to make teaching more meaningful. Instructors can even upload their own documents, like standard operating procedures or checklists, making for a complete resource library.
Flight school tools
Sporty's courses are in use at a growing number of flight schools, from single-instructor clubs to large aviation universities. To support these customers, Sporty's has built powerful management tools, including the ability to create classrooms, bulk invite students, and export a roster to a .csv file. The course also integrates with Flight Schedule Pro, a popular management tool, with each lesson in FSP linked directly to the relevant video segments in Sporty's course.
Students can even connect their training progress in AOPA Flight Training Advantage and Sporty's course for a seamless training experience, both inside and outside the airplane. AFTA is a web portal- and iPad-based training application that helps make the process of flight training more effective for the student, the CFI and the flight school.
Sporty's CFI Portal is completely free for active flight instructors. To sign up, visit Sportys.com/CFI.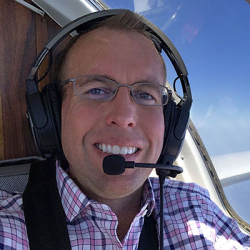 Latest posts by Bret Koebbe
(see all)
https://studentpltnews-images.s3.us-east-2.amazonaws.com/wp-content/uploads/2022/09/28101805/2023Courses4-SharePlay.jpg
1000
1000
Bret Koebbe
https://flighttrainingcentral.com/wp-content/uploads/2022/01/FTC-logo-horizontal-fianl.png
Bret Koebbe
2022-10-12 08:54:29
2022-10-12 08:55:25
Sporty's launches suite of free flight instructor tools