3

min read
I recently flew a trip from the Midwest to Reno, NV (KRNO). Reno is located in the northwest portion of the state just to the north of Lake Tahoe near the California border and on the eastern side of the Sierra Nevada Mountain range. Needless to say, it's a gorgeous part of the world with endless recreational activities whether winter or summer or anytime in between. But the combination of high elevation and scorching hot temperatures during the summer, requires pilots to be mindful of high density altitude considerations.
High density altitude is the ultimate thief lurking in the shadows as it robs the aircraft of engine and propeller performance resulting in increased takeoff rolls and degraded climb performance. In other words, density altitude is the altitude at which the aircraft is performing. Technically speaking, density altitude is the vertical distance above sea level in the standard atmosphere at which a given density is to be found or pressure altitude corrected for nonstandard temperature. 
Density altitude is determined by first finding pressure altitude, and then correcting this altitude for nonstandard temperature variations. Air density is affected by changes in altitude, temperature, and humidity. High density altitude refers to thin air, while low density altitude refers to dense air. The conditions that result in a high density altitude are high elevations, low atmospheric pressures, high temperatures, high humidity, or some combination of these factors. Lower elevations, high atmospheric pressure, low temperatures, and low humidity are indicative of low density altitude. 
Humidity, also called relative humidity, refers to the amount of water vapor contained in the atmosphere and is expressed as a percentage of the maximum amount of water vapor the air can hold. This amount varies with temperature. Warm air holds more water vapor, while cold air holds less. Humidity alone is usually not considered an important factor in calculating density altitude and aircraft performance, but it is a contributing factor. 
As an example, consider the Reno Tahoe Airport with a field elevation of 4,044 feet MSL where the temperature is a comfortable 15 °C. Under these conditions, the density altitude is 5,416 feet. If the temperature rises to 30 °C, the density altitude increases to 7,077 feet. This means an aircraft would perform on takeoff as though the field elevation were 7,077 feet. In my particular case, this translates to a 22% increase in takeoff roll. The same scenario in a Cessna 172 Skyhawk results in a 12% increase in takeoff roll.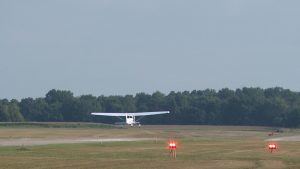 While many airports in areas that routinely deal with high density altitude conditions have adequate runway length for a wide variety of aircraft and conditions, you're certainly not finished with the effects of density altitude after your ground roll. Because of the terrain surrounding the Reno Tahoe Airport, many of the published departure procedures require climb gradients of nearly 8%. In our jet aircraft, at a reduced weight, meeting those requirements were not an issue even at a temperature of 30 °C, but the calculation certainly had to be considered. And if the performance was not adequate, we would need to consider reducing weight (fuel), leaving earlier in the day with cooler temperatures or even moving the departure date.
If we go back to our Skyhawk example, at maximum weight and a temperature of 30 °C, we're not able to achieve that type of climb gradient. Does that mean we're grounded? Not necessarily. There are other options for departing the area including climbing above the airport until clear of obstacles, but we'd have to ensure we could do so in visual conditions. The more important point is that when we have the high elevation, high temperature (e.g. high density altitude) conditions, we must consider all aspects of aircraft performance when preparing for our flight and always have a plan. And in mountainous terrain, there's even more to consider.
Latest posts by Eric Radtke
(see all)
https://studentpltnews-images.s3.us-east-2.amazonaws.com/wp-content/uploads/2018/10/05163617/High-Sierra-screen-shot-1.jpg
524
1000
Eric Radtke
https://flighttrainingcentral.com/wp-content/uploads/2022/01/FTC-logo-horizontal-fianl.png
Eric Radtke
2022-08-29 08:30:02
2022-08-29 08:41:48
Density altitude dangers