Quiz: Basic Aircraft Aerodynamics
1

min read
As much as it seems sometimes that airplanes fly by magic, it's important for every pilot to understand at least the basic fundamentals of aerodynamics. These principles dictate not only how the aircraft stays aloft, but what makes it either stable or unstable.
Understanding these concepts will create a smoother and safer pilot. Take this quiz to test your aerodynamics knowledge.
1. Select the four flight fundamentals involved in maneuvering an aircraft.
2. The term 'angle of attack' is defined as the angle between the
3. When does P-factor cause the airplane to yaw to the left?
4. Which statement relates to Bernoulli's principle?
5. What force makes an airplane turn?
6. The acute angle A is the angle of
7. Which basic flight maneuver increases the load factor on an airplane as compared to straight-and-level flight?
8. The four forces acting on an airplane in flight are
9. The angle of attack at which an airplane wing stalls will

What goes up, must come down
You got out of

9

right!
Want to learn more about airplane aerodynamics? Check out Sporty's Learn To Fly Course for more in-depth training on this subject.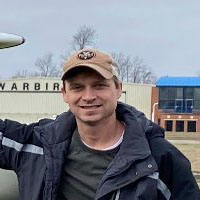 Latest posts by Chris Clarke
(see all)
https://studentpltnews-images.s3.us-east-2.amazonaws.com/wp-content/uploads/2016/03/05181805/Aerodynamics-and-Stalls-Tip.jpg
1080
1920
Chris Clarke
https://flighttrainingcentral.com/wp-content/uploads/2022/01/FTC-logo-horizontal-fianl.png
Chris Clarke
2023-05-09 08:55:21
2023-05-10 09:12:04
Quiz: Basic Aircraft Aerodynamics